Family sells all and puts money into Bitcoin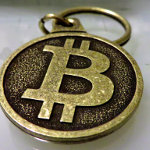 Didi Taihuttu, a Dutch man, his wife and their three daughters who live in a chalet in Limburg and who have decided to live simpler lives, have sold all their major possessions to buy up Bitcoin.
The 38-year-old, an IT business owner who used to employ 16 people, claims "It's the currency of the future", but says if it all goes south, he'll be ready to start over. Last week, Bitcoin apparently broke through the 5,000 USD for the first time since its launch, an increase of more than 400 percent just in 2017. However, if you read the link, you'll see that opinions are still very divided on the topic.
In 2015, a the Court of Justice of the European Union ruled that Bitcoin is exempt of VAT and there was also the Dutchman who had Bitcoin wallets injected into his hands.
(Link: phys.org, Photo by BTC Keychain, some rights reserved)