Rotterdam café to make Ajax toilet seats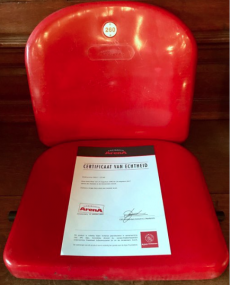 For Rotterdam Feyernoord football fans, there were Feyernoord stickers to 'rebrand' all those Ajax brand fire extinguishers in 2015 reminding them of the rival Amsterdam Ajax football club. Now, the owner of Sijf in Rotterdam has gone one step further: he plans to make toilet seats out of Ajax arena seats for his Feyernoord-leaning patrons.
The initial plan was to buy the written off arena seats and make terrace furniture out of it, but that didn't pan out. However, to make the toilet seats, owner Herman Hell still needs someone to design them.
(Link and photo: nos.nl)
No Comments »
No comments yet.