Former Dutch Prime Minister has his first joint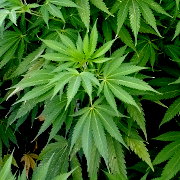 Dries van Agt, 86, served as Prime Minister of the Netherlands from late 1977 until late 1982. Of all his achievements, the one that stands out for many is the introduction of 'turning a blind eye' (in Dutch, 'gedoogbeleid') to the use of marijuana and hash 42 years ago as of January 17, 2017, which was a world's first.
Van Agt was Justice Minister before he was PM, and together with Irene Vorrink the Minister of Health at the time, they are the reason why the world assumes pot is legal in the Netherlands when it fact, it is absolutely not. They are also the reason why the Dutch have been making a distinction between soft drugs and hard drugs since 1976.
In November 2009 Van Agt received the Cannabis Culture Award of the Hash, Marihuana & Hemp Museum in Amsterdam, but this week he was awarded the Koos Zwart Award in Tilburg, an annual award given to people who have been instrumental in moving towards legalisation and normalisation of cannabis in the Netherlands. The award is named after hash activist Koos Zwart who died in 2014 and who happens to be Irene Vorrink's son. The former premier held a speech in 2016 at the Cannabis Liberation Day in Amsterdam to plead for the legalisation of marijuana.
And on January 17, Van Agt smoked his first ever joint (pic).
(Link: www.vice.com)