Films of things blowing away in Netherlands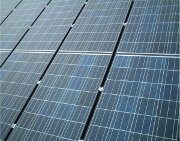 Trains have stopped, planes are grounded, a lot of public transport is interrupted, a lot of bikes and scooters outside 24HQ have tipped over, and there's a whole lot of Dutch reports of different things being blown around. Here's a selection:
Here's a video of all kinds of stuff blowing over.
See what happens to these solar panels.
And who needs the gym when you can do exercises with your car door.
Some people couldn't take their train this morning because a trampoline rammed a train in South Holland.
UPDATE: This roof blowing off in Rotterdam Charlois is quite spectacular.
(Photo of solar panels by Mhassan Abdollahi, some rights reserved)
No Comments »
No comments yet.