Crates of porn handed over to Dutch library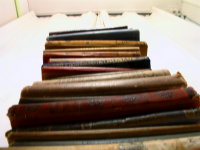 The Dutch National Library based in The Hague has received a collection of pornographic books, part of which is specifically about fantasies set in WWII. Former conservator of the Paleontology and Mineralogy Cabinet at the Teylers Museum in Haarlem, Bert Sliggers, donated 100 crates of erotic literature, spanning from the end of the 19th century to today.
The library plans to hold an exhibition entitled 'Porno op Papier' ('Porno on paper'), featuring a deal of his collection. Sliggers never hid the fact that he collected pornography. His collection starts in 1880, with books that were censured for various reasons. And one of the weirder genres he owned was Nazi porn. "Even after WWII this type of pornography sold well, in the hundreds of thousands of books."
(Link: www.telegraaf.nl)
No Comments »
No comments yet.