Amsterdam turns into picturesque skating rink
As of Thursday, people started skating on a few selected stretches of canals in Amsterdam, mainly the Prinsengracht. Yes, there's been skating of all kinds happening in the north of the country as it is somewhat colder, but when skate fever hits Amsterdam, it's a big deal worldwide. The sheer amount of spectators on the canal bridges means we're all on someone's holiday pictures and social media.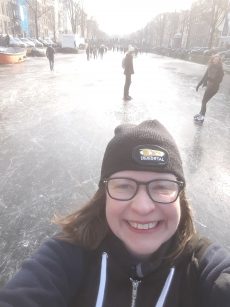 While co-blogger Branko was taking pictures, I cleared my schedule on Friday and went skating. I've own a pair of custom Riedell ice skates since I was girl in Canada and they are at my door with my hats and gloves at 24oranges HQ ready to go skating. The last time the canals froze in Amsterdam was February 2012 and back then I had a broken leg from roller skating and missed out on all the fun. I couldn't be happier to finally get to skate this time around. Practicing any of my figure skating jumps was not an option though, sadly, since the ice would crack in places as we all skated over it. It got a bit scary: getting on and off the ice at strategic places meant relying on the help of strangers and nobody is going to tell you where to skate and where not to, which is all very unregulated yet freeing.
I saw a guy cycle on the ice while texting, I saw girls and boys playing hockey together with some adults and I saw people skating for the first time on speed skates.
No Comments »
No comments yet.