Amsterdam boasts world's first plastic-free supermarket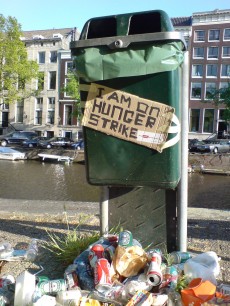 A few days ago, a branch of organic food supermarket chain Ekoplaza in Amsterdam West not far from 24oranges HQ, opened a plastic-free pop-up supermarket, selling close to 700 plastic-free products. Although the initiative comes from international action group A Plastic Planet from London, Amsterdam's Plastic Soup Foundation was able to convince the Londoners to launch the world premiere in the Dutch capital.
The packaging resembles the look, feel and strength of real plastic, but is made using natural, 100% biodegradable materials. Ekoplaza has 74 supermarkets throughout the Netherlands and hopes to rollout this concept to other branches by the end of 2018.
"Dutch designers Eric Klarenbeek and Maartje Dros developed a bioplastic made from algae, which they believe could completely replace synthetic plastics over time, while Design Academy Eindhoven graduate Shahar Livne created a clay-like material using discarded plastic."
And if they can do, so can everybody else at some point, starting with the insane amount of uselessly, individually wrapped vegetables at regular supermarkets.
(Links: dezeen.com, plasticsoupfoundation.org)
No Comments »
No comments yet.