First Dutch Netflix Original in the works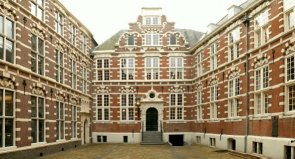 Although last year we announced the first Belgian-Dutch series to hit Netflix, called 'Undercover', now there's a Dutch Netflix Original in the works, with no name as of yet. Since Belgian television is developing and will broadcast 'Undercover' first, it isn't considered a Netflix Original, while the unnamed Dutch project will be.
Produced by Pieter Kuijpers and Sander van Meurs of the Pupkin company, the eight-part series of 30 minutes will feature the combination of two elements, namely coming of age and horror, set in Amsterdam. A group of students enjoying the vices of the Dutch capital discover a link to a demonic world from the Golden Age upon which this country has built its entire fortune. This Dutch outing will be penned by writers' collective Winchester McFly (Bankier van het Verzet, Smeris), while the showrunner will be Michael Leendertse (Van God Los, Smeris).
(Link: bright.nl, Photo of the VOC HQ (East India Company) by Josh, distributed under the terms of the GNU Free Documentation License, Version 1.2)
No Comments »
No comments yet.