Priceless books found in Dutch Parliament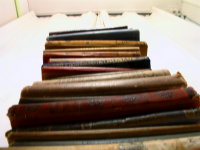 While cleaning up the book attic of the Dutch Parliament to get ready for a big move in the near future, hundreds of priceless books have been discovered, including a first edition of Scottish economist and philosopher Adam Smith's 'An Inquiry into the Nature and Causes of the Wealth of Nations' aka 'The Wealth of Nations' worth a few hundred thousand euro, published in 1776. Although it is said not to be that rare, it is very much in demand by rich folks as a showpiece in their offices.
Among the hundreds of books published before 1830, 10 percent of them are unique, with no existing second edition. The rest of the books are mostly from the second half of the eighteenth century. Many of the books will need to be restored and will possibly be exhibited at some point in time.
(Link: nu.nl)
No Comments »
No comments yet.