Dutch PM cleans up a spill and it's news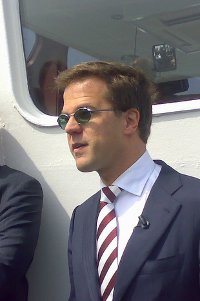 Dutch Prime Minister Mark Rutte spilled his coffee at work and cleaned it up all by himself (see video). It's news in part because a chorus of non-Caucasian women cleaners jumped up and down when he didn't just leave it for them.
It's normal to clean up your own mess in many Western countries, there's no reason to think Rutte would think he's above five minutes of manual labour. Would this film have been different if Rutte were a woman or if Alexander Pechtold (D66 party, holding Rutte's papers) would have spilled his coffee as just a member of Parliament? Would the cleaners be jumping up and down, do you think? Would this have been of any interest without the cleaners in the film?
To be honest, I think we're posting this because otherwise there's not much positive to say about the Dutch PM at the moment. We will gladly tell you that the VVD is the most corrupt political party for the sixth year in a row.
Come up with your own joke about the VVD cleaning up their own mess in the comments.
(Link: nos.nl, Photo by Petra de Boevere, some rights reserved)