Dutch men adversely affected by cycling, study says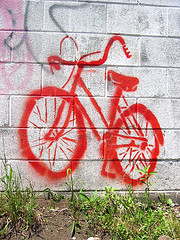 In an American study entitled 'Effect of Oscillation on Perineal Pressure in Cyclists: Implications for Micro-Trauma', the all-male authors report that "genital numbness and erectile dysfunction in [male] cyclists may result from repeated perineal impacts on the bicycle saddle (micro-trauma) that occur during routine cycling. And if there's a country we know that has men who into routine cycling, it's definitely the Netherlands. Slots two and three are taken up by Denmark and Germany, with Sweden, Norway, Finland, Japan, Switzerland, Belgium and China rounding out the Top 10.
The study's authors concluded that there was a strong linear relationship between oscillation magnitude and perineal pressure during cycling and that using shock absorption in bicycle design may reduce this perineal micro-trauma while possibly improving cycling-associated perineal numbness and erectile dysfunction.
(Link: improbable.com)