Dutch and French battle over Olympic Games founder's name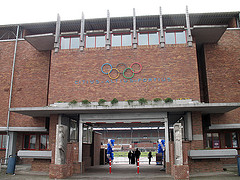 Dutch company Tempting Brands from Veenendaal, Utrecht and the International Olympic Committee (IOC) are embroiled in a conflict over who has the right to use the name Pierre de Coubertin, the founder of the ICO and often considered the father of the modern Olympic Games.
In 2007, the IOC secured 'Coubertin' from the European Union Intellectual Property Office, but according to Tempting Brands, they can trademark it because the IOC failed to use it for five years. The Veenendaal company also uses the name of the iconic US Route 66, 'Marie Antoinette' and others.
French lawyer Fabienne Fajgenbaum, an intellectual property specialist fighting for the IOC, argues that Tempting Brands has simply grabbed the Coubertin name just to rent it out, rather than providing any added value, which could give the French a win. She already managed to stop a French company from selling wine bottles branded with a picture of the Olympic founder during the 1996 Olympic Games in Atlanta.
In the other corner, Dutch intellectual property lawyer Tjeerd Overdijk explains that in the Netherlands, it would be difficult to challenge the trademark filing, as it depends on the product. He has successfully defended a company that secured the rights to Vincent van Gogh's brand, despite a legal challenge from the foundation named after the Dutch painter.
Faites vos jeux, rien ne va plus.
(Link: phys.org)
No Comments »
No comments yet.