Dutch singer Glennis Grace rocks America's Got Talent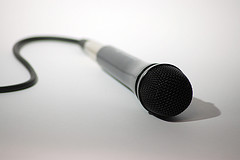 Anyone in the Netherlands who has heard Amsterdam's Glennis Grace sing knows how fantastic she sounds in both Dutch and English. But in today's America-obsessed Netherlands [constant comparisons to the US in all fields], if you make it big in the US in English, you've reached the top, at least in music.
These days Glennis Grace has been batting them out of the park, to use a baseball expression on America's Got Talent. At 40, she's not the doe-eyed 20-year-old looking for validation as annoyingly pointed out by judge Simon Cowell in not so many words in the video below. Glennis also addresses comments to Mel B on the panel, while Cowell finds a way of making it about himself, which doesn't bother the worldly Glennis one bit.
The next step is singing live with six other contestants. Glennis has met them all and says they are good, but that she plans to stay focused on herself. As well, she's keeping which song she'll be singing in the next round a secret, but won't give any details except that it's a difficult song to sing.
Listen to Glennis Grace charm the room with 'Nothing Compares 2 U' by Prince:
(Link: nu.nl, Photo of Microphone by visual dichotomy, some rights reserved)