Connected Wi-Fi birdhouses attract singing birds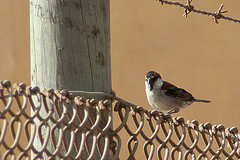 Berlin-based Dutch artist Albert Raven has created a smart birdhouse that is connected to the entire world by Wi-Fi. An Internet Of Things (IoT) artwork, the Birdhouse needs to be installed indoors, and an algorithm determines which house the bird will visit. You'll never see the bird, but you will hear it.
Raven (fitting name) believes IoT is an "Internet without people, an experimental playing field where time and space come together as never before". There are currently 26 of his birdhouses in locations around the world, and surely more to come. The Birdhouse is perfect for a house without house pets or for anyone who thinks the idea behind the artwork is cool. A birdhouse costs 395 euro or you can support the project by buying bird seed or a T-shirt from the artist.
Find out more about the Birdhouse here:
(Link: bright.nl, Photo of Iago Sparrow by Hans Zwitzer, some rights reserved)
No Comments »
No comments yet.