Why the Dutch are observing Black Friday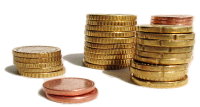 According to Wikipedia, Black Friday became a thing in the Netherlands about three years ago. Even as a Canadian, it was the first time I'd ever heard of it. In Canada, where Thanksgiving is celebrated in October and for very different reasons that in the United States, we've always had Boxing Day (26 December) as our shopping madness day, where shops want to get rid of their stock before the new year. In the Netherlands, 26 December is actually a holiday.
This year the Netherlands has a lot of shops big and small participating in Black Friday, acting like not doing so would be missing out. A lot of people think this 'commercial appropriation' is ridiculous, but mark my words, it will continue to grow here and in Europe because it remains a money maker, especially with Cyber Monday a few days later.
One person on Twitter captioned a picture of packages of American cranberries, saying sarcastically "The cranberries are already in the supermarket, so that we can celebrate Thanksgiving tonight and Black Friday tomorrow. But changing anything about Dutch traditions, well no." The comment alludes to this year's escalation of the Zwarte Piet (Black Pete) debate, which has turned to hate and violence, two things that do no pair well with gift giving and happy holidays.
And seriously, most Dutch kitchens do not have an oven and if they do, good luck fitting a turkey in there. I'm still bummed I can't put two trays of 12 muffins in side by side.