Criminal mistakes cop for partner, cops score big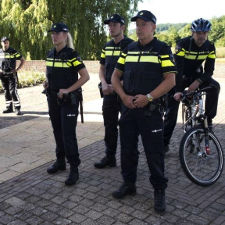 Last weekend, a criminal in Rotterdam was leaving a flat with hundreds of thousands of euro in a bag and mistook a plain clothes policeman in a car for his partner in crime. Oops.
When he realised he had messed up, he ran, tossing the bag full of cash and throwing the key to the flat in a ditch. Both were retrieved by the cops, one easily and one with a bit of fishing.
The cops checked out the flat in question, which was like hitting the jackpot. It had even more money in it, hard drugs, guns, a sealer for drugs and all kinds of gear to build an illegal cannabis plantation. There was also a big safe that was hoisted out of the flat with a crane – who knows what kind of goodies were in there, I'm guessing falsified documents.
The plain clothes cop was staking out the area, having seen the driver waiting on his friend drive quite poorly on the way there. Then, the driver got out of his car to make way for the stash in the boot and that's when the 'bagman' knocked on the wrong car window.
This reads like the third act of a stupid television show.
(Link: crimesite.nl, Photo: of Dutch police officers politie.nl)
No Comments »
No comments yet.