Embroidery of foreign packaging and food items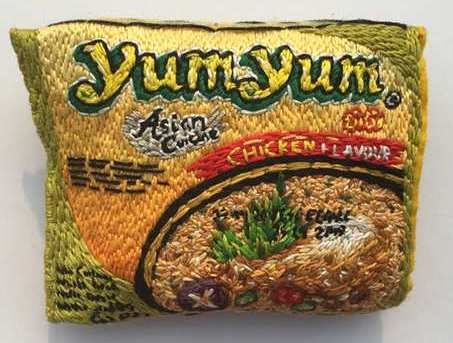 Dutch artist Dagmar Stap of Groningen is fascinated by packaging and likes to create embroidery with said packaging, which is pretty cool. Until 30 December her work can be found at This Art Fair at the Beurs van Berlage in Amsterdam, as well as on her instagram account.
Stap embroiders things such as noodle packages, sweets and tins, all with much attention to detail. "Embroidery takes a lot of time and effort [some 10 days for one piece], but that gives the works more value." She tends to pick colourful products and products from various countries, especially those she cannot read because of the language. She evens checks with Google translate to see what it is, although many products are from well-known international corporations.
Having studied illustration at the Academie Minerva in Groningen, she would draw and paint packaging she had lying around, out of boredom. Eventually, she began to embroider in order to make the art more tangible.
At this point, she has a whole shelf of embroidered art on display.
(Link and photo: vice.com)
No Comments »
No comments yet.