Efteling amusement park addresses some of its racist stereotypes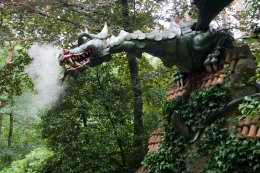 Calling them 'hurtful clichés' rather than straight up racist stereotypes, amusement park De Efteling is finally modernising their collection of African and Asian figures.
The negative comments got enough media attention back in 2014 when an American journalist was 'shocked' at the famous 'Monsieur cannibale' ride complete with Africans, gold rings and a boiling cauldron (see our previous posts on the topic, it gets into the weeds of the French song itself).
Although there was an action group that pushed for changes, the park said they decided on their own to update their rides, changing the appearance of some 100 figures around the park as well as updating the place with some energy-efficient lighting.
Interestingly enough, no changes have been planned for the Monsieur cannibale ride, but they say it might be updated once it needs maintenance, which sounds like a Dutch compromise.
Tip to foreign media, especially Americans: the more Americans point out the weird-ass colonial shit that still exists in this country, the more people are going to dig in simply because it's an American telling them what to do, which – pardon the pun – is widely interpreted as a pot-kettle-black situation.
Colonialism and cannibals: deconstructing a Dutch tourist attraction

Opening the racist door: Monsieur Cannibale part deux
(Link: rtlnieuws.nl, Photo: Photo of an Efteling dragon by Jeroen Kransen, some rights reserved)
No Comments »
No comments yet.