Crime is down, but a lot of it is in Limburg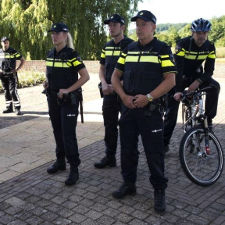 While I was in a tram this morning riding along a crime scene today in East Amsterdam, I started thinking about crime. Apparently, the top 10 cities with the most crime in the Netherlands includes four municipalities from the province of Limburg: Heerlen (4th place), Maastricht (5th place), Sittard-Geleen (7th place) and Roermond (9th place).
Amsterdam remains the city with the most crime, followed by Eindhoven and Rotterdam. A city next to Amsterdam, Diemen, has gone from 26th place to number 8, as some gang was quite busy with break-ins, but finally got rolled up.
Rounding off the top 10, there's The Hague in 6th place and Schiedam in 10th place, both together with Rotterdam representing the province of South Holland. Amsterdam and Diemen are in North Holland, with Eindhoven in Noord-Brabant.
All in all crime is down, including pickpocketing, a classic in cities with a lot of tourists.
(Links: binnenlandsbestuur.nl, ad.nl, Photo: Dutch police officers politie.nl)