Dutch radio temporarily bans Michael Jackson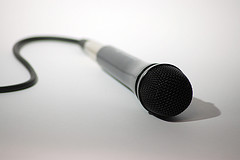 After finding out about the documentary Leaving Neverland released a few days ago, a film that focuses on two men who claim they were sexually abused by singer Michael Jackson as children, NH radio from Amsterdam has decided to temporarily stop playing music by the American pop singer.
The radio is worried that the demand for Jackson's music will increase because a documentary about him will be aired on Dutch television on 8 March. "We won't be able to listen to his music in a neutral way and we want people to listen to his music with an open-mind," the station explained.
In any case, the ban will last a few weeks. I have no clue if that will change anything or what purpose it will serve in the long run. And I wonder if other radio stations will do anything similar.
(Link: nhnieuws.nl, Photo of Microphone by visual dichotomy, some rights reserved)