Rotterdam bills festival after confetti throwing attempt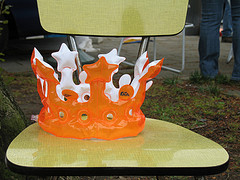 During King's Day at the Kingsland Festival in Rotterdam, people attempted to break a confetti throwing record, but failed. What also failed was the attempt at cleaning up the mess, since the organisers are being billed with extra clean-up costs.
Festival organisers had until 30 April (3 days) to clean up their mess, but there was still a lot of confetti to be found in the grass and the woods.
The city of Rotterdam is now cleaning the rest of the confetti up and will be sending the bill to the organisation. The city was completely OK with the record attempt as long as the confetti was picked up. It will take cleaners two more days to fully clean the area, to the tune of a few extra thousand euro.
Two local political parties were sceptical of the confetti attempt and now it turns out they were right. The city is also considering fining the organisation as well.
Everyone should feel like a King on King's Day, but some people have ended up looking more like fools.
(Link: rijnmond.nl)