Frisian villages have first ever Frisian supermarkets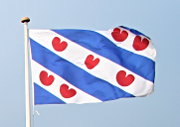 As of 20 December, the villages of Eastermar and Damwoude both have the 'Dutch' premiere of opening the first ever Frisian-language supermarkets. The Alles onder één dak (Everything under one roof, in Dutch) in Eastermar and the Albert Heijn in Damwoude have their advertising and signs all in Frisian, thanks to the support of the Afûk foundation that helps promote Frisian language and culture.
Fokke Jagersma of Afûk explains that the products are all in Dutch with Frisian explanations, which is not as exciting as having it all in Frisian for locals and tourists alike. However, the staff speaks Frisian, a language spoken by about 400,000 people in a country of 17.5 million. And apparently, tourists want to see Frisian when they go to the province of Friesland, so who knows what the future may bring. As well, there's talk of a visit from the Ministry of internal Affairs in February.
(Links: nos.nl, eastermar.nl, Photo by Rupert Ganzer, some rights reserved)
No Comments »
No comments yet.