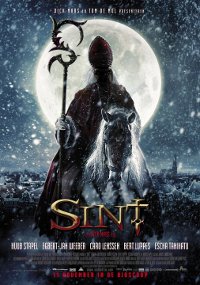 The advertising authority (Reclame Code Commissie) has given the poster for Dick Maas' new horror film Sint the green light this afternoon, NOS Nieuws reports.
'Concerned parents' had complained about the poster for being too scary and for being contrary to the traditional way Saint Nicholas (Sinterklaas) is viewed in the Netherlands. The advertising authority pointed out, correctly in my view, that nothing in the way Sinterklaas is portrayed in the poster (see illustration) deviates much from the way the good (or in this case evil) saint tends to be depicted.
However, the movie is a different story. Since that one is rated age 16 and older, nimby parents would have had little to complain about. I hope Sint puts the whiners all in the sack this year, and carries them back to Spain for further punishment—it is the traditional way!
The movie will be released November 11 in the Netherlands and Belgium. Rumours have it that Sint will already be lurking the cobblestone streets of these misty lands by then. Unofficially, of course.
(Source photo: Facebook / SintdeFilm. Source video: YouTube / Parapromo)
Tags: advertising authority, parenting