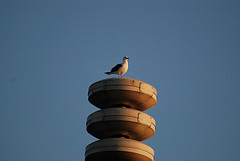 The first Monday of the month at noon is when the entire country gets to listen to a modern-day air raid siren, a test to make sure it's all working in the event of a flood or if zombies ever become a thing. The government wants to replace it with NL-alert, which was the world's text message-based emergency broadcast system, as well as use social media, websites and the radio to warn people, probably in Dutch only.
Webwereld.nl points out a host of problems with NL-alert: it still doesn't work with 4G mobile phones and doesn't always work if your phone is too new, too old or not configured to receive NL-alert. If your mobile network breaks down, you won't get a warning, either. If you don't own a mobile or if something happens in one town and you work in another, which is most of the Dutch population, you won't get a message until your commute home and it could be too late. If you're driving in your car where it's illegal to use your phone and you're not listening to the radio, you'll find out much later as well. If you're a person that turns off your mobile at night to get some decent sleep you also won't get the message, as disasters would then really need to happen during the day.
And if you're a visitor or a tourist with no mobile or a foreign network, the zombies will get you first.
Sure, if enough people know something bad is happening you'll find out as well, but it's still patchy. The current alarm system seems to be the only 'old school' way to warn almost everybody, but it does cost 4 million euro a year and doesn't always work, either.
(Links: www.parool.nl, webwereld.nl, Photo of Air raid siren by Tim Geers, some rights reserved)