World's first emergency broadcast system using text messages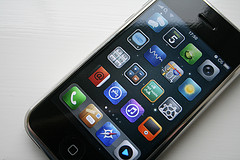 The Dutch government has just launched the world's first nation-wide text message emergency alert system, called NL-Alert, which allows authorities to warn people within the immediate vicinity of an emergency situation (e.g. a major fire or flooding) by sending a text message to their mobile phones about what to do in that event.
All mobile phones users in the affected area will receive text messages automatically, as long as NL-Alert has been activated, the phone is switched on and has normal reception. It is also free to use and you do not need to register to use it.
Considering the goal is to keep people safe, I'm a bit surprised that the website is only in Dutch and that the warning messages will only be in Dutch, contrary to a lot of other less important government information about, oh, taxes. The other thing is, it assumes everyone has a mobile phone, but then again I assume that someone with a mobile phone will be decent enough to warn any phoneless person.
This seems like a very modern response to the quasi obsoleteness of television and radio for up to date information, which nobody except the elderly, housewives and the unemployed listen to during the day. Most major emergencies are often communicated by mobile phone to the media by Twitter and the likes, so it makes sense that the information from the government be broadcast by mobile phone. Granted, cell broadcasting is totally different than using the Internet, but both make use of mobile phones.
My phone, the HTC One X was already configured to receive cell broadcasting messages, a system which is designed to simultaneously deliver messages to multiple users in a specified area.
(Link: www.iamexpat.nl, Photo by William Hook, some rights reserved)
4 Comments »