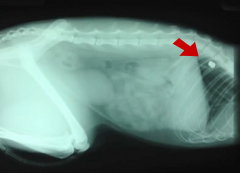 A cat in Almelo has been shot at twice in one year.
Estelle, the cat of of the Tolsma family in the Schelfhorst neighbourhood was shot in its lungs yesterday by an unknown assailant, RTV Oost reports. The owners believe that Estelle was shot when she was out in the yard, because they could hear two bangs. "She never leaves the garden", Mrs Tolsma told the reporter.
The bullet is lodged beneath the spine, which is why it cannot be removed by the local vet. The Tolsma family will have to take it to a specialist in Utrecht for an operation.
Last year Estelle was shot in her right front paw with an air gun.
(Video: Youtube / RTV Oost)
Tags: Almelo, cats, cruelty to animals