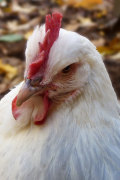 A late addition to our list of Words of the Year 2012 is that of Onze Taal, 'the Dutch association for language lovers'.
That word is 'plofkip' (literally 'exploding chicken'), a propaganda word meaning 'broiler'.
Second and third place went to 'appen' (to Whatsapp) and 'pandapunt' (points you get for sexual abstinence). Plofkip got 44% of the votes.
(Link: Eamelje. Photo by Flickr user normanack, some rights reserved)