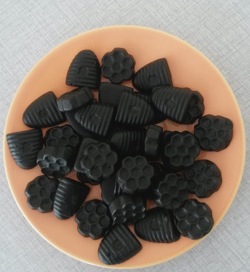 After having Americans try sweets and foods from many other countries, the Dutch held their breath to find out what happens in the recently released 'Americans Try Dutch Sweets' video.
Sometimes you know the panel is going to hate it, but it's tough to find anyone that hates 'stroopwafels' ('syrup waffles'). When I travel abroad and need to bring a small gift, stroopwafels are my best bet. You should warm them up on a mug of coffee or tea and then eat them or buy mini-stroopwafels and eat the whole bag.
Haribo is a German company and Germans as well as other nationalities also enjoy drop, so even if drop is more of a Dutch favourite, it's always fun to see people's reaction to trying it for the first time, like babies biting into a lemon and wincing their cute little faces.
'Boterkoek' ('butter cake') is easy to like, so no weirdness there, just a buttery taste. 'Autodrop cadillacs' ('gummy pink cadillacs') are nice because the strawberry flavour is not artificial and you can do wonders with the caddies on cupcakes. And yes, gummy products are originally German. The rum beans are bean-shaped chocolates filled with rum, although you need to pop them into your mouth in one go or else. I have no idea who came up with the brilliant idea for this type of sweet, but chocolate and rum is an international combo of deliciousness.
I say we need at least a second video with many more types of cakes and cookies (hey look, a Dutch word that made into English, from 'koekjes') and possibly a few other regional delicacies.