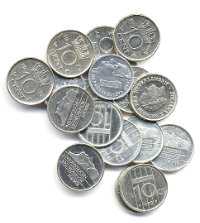 Last January garbage collectors found 46,000 guilders in old office furniture that most likely came from the offices of Amsterdam's district Zuid ('South').
The money was found by an HVC employee in Hoorn who was busy compressing a container full of wood when money boxes started popping out, revealing the banknotes they had inside. The district told Parool that they never missed the money. The district ordered the money to be returned. The paper doesn't say what legal grounds they have to do so.
Amsterdam Zuid is home to the richest residents of Amsterdam, so it's quite ironic that they could lose tens of thousands of guilders without noticing it. Residents of some Amsterdam Zuid neighbourhoods are so wealthy that when they get fined for double parking, they prefer to call their expensive lawyers rather than paying a small fine.
The Netherlands replaced the guilder by the euro as its legal tender in 2002.
(Photo by Sarah Joy, some rights reserved)