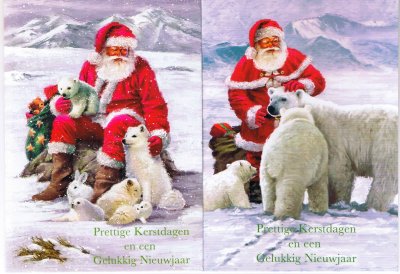 Dutch postal company PostNL surveyed 18 European countries and it's the Dutch that apparently send the most Christmas cards, at an average of 40 a household. The Brits, Danes, Fins and French also send a lot of Christmas wishes through the mail, at an average of 17 to 30 cards, while Southern Europeans send the least amount of cards.
Almost all European countries have special Christmas stamps at a reduced rate. In the Netherlands they're called 'decemberzegels' ('December stamps', more generic) and 'kerstzegels' ('Christmas stamps').
Interestingly, Germany actually has Christmas stamps that are more expensive, costing 55 euro cent with 25 euro cent extra going to a good cause.
The photo above are Environmentally incorrect Santa Claus cards I scored at the cheap Asian import store down the street two years ago. However, while researching this piece, these blonde Caucasian German angels jumped out at me.
(Link: www.telegraaf.nl)