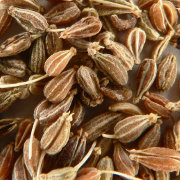 Last year the sole manufacturer of aniseed cubes in the Netherlands, De Ruijter, ceased manufacturing its well-known comfort product.
Aniseed flavoured hot milk is a favourite drink of many Dutch people who have trouble sleeping. Personally I prefer Blooker cacao, so I missed out on the whole aniseed cube scandal, until last night when a Facebook friend mentioned he could not sleep because he had run out of the vaunted cubes.
De Ruijter explains its decision in a FAQ:
We've been making aniseed cubes since 1928 using practically the same method all that time. We've been able to keep the aniseed cube machine running for a long time, but wear and tear and the lack of replacement parts have made it impossible to extend the life of our machine.
The company has now introduced packets of aniseed powder at more than three times the price. Nobody is happy with this price hike and several people started stockpiling the cubes as soon as they found out. The limited number of likes the activist Facebook page Wij Willen De Ruijter Anijsblokjes Terug has received, only 75 at the time of writing, suggests perhaps a more practical reason why De Ruijter has stopped production.
Another company, M. & P. S., is still producing its own brand of aniseed tablets ("since 1854", for whatever it's worth), but apparently they are even more expensive than De Ruijter's new packets.
So what do you do when you cannot fall asleep?
(Photo of aniseed by David Monniaux, some rights reserved)