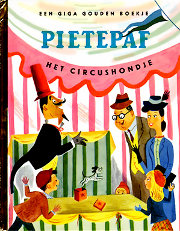 The famous Little Golden Books, a series of children's book originally published by Simon and Schuster in the USA, have always been popular in the Netherlands.
The booklets with the golden spine were first published in 1942. It took 11 years for the series to get its launch in the Netherlands with a translation of Little Peewee, or Now Open the Box. This year Dutch publisher Rubinstein celebrates the 60th anniversary of the series in the Netherlands with a large format release of the translated booklet.
According to Holly Moors, the success of the series in the Netherlands is due "largely because Annie M.G. Schmidt improved the American versions irreparably." Moors has a photo of his 2-metre-tall son (?) Rik reading the book for comparison. The Giga Golden Book, as Rubinstein calls it, has 14 extra pages that were in the American original but not in the Dutch translation of 1953.
The early 1950s must have been a good year for American cultural exports to the Netherlands (so close after the war). In 1952 the Donald Duck weekly was launched in this country and that publication is also still going strong.