Amsterdam wants to repurpose the abandoned sewage processing towers on Zeeburgereiland, an island that now connects the new island neighbourhood of IJburg with the city centre. One of the towers will become the Annie M. G. Schmidt house, named after the children's book and musical song writing icon (1911-1995) who once famously said: don't erect a statue for me, I'd rather you remember me with a playground.
The proposed giraffe in the image is likely to be a slide, after Schmidt's song Dikkertje Dap (lyrics), in which a small kid uses a giraffe's long neck as a slide. The new destination for the three towers was announced this week by Amsterdam city planning councilman and former student union leader Maarten van Poelgeest, writes Arch Daily.
Other planned uses for the buildings are "a theatre, a restaurant, an exhibition space, and shops," writes Fast Company. Architects Arons and Gelauff are the culprits.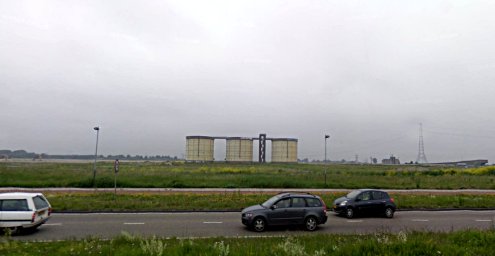 Source images: Arons & Gauluff, Google Street View respectively.