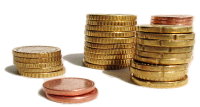 Glossy money magazine Quote presented its 100% Selfmade list last week, an overview of the 100 richest self-made Dutch people of under the age of 40.
The Top 5 is:
David Slager (37), 270 million euro, stock trader
Reinout Oerlemans (38), 73 million euro, TV director and producer
Roger Hodenius (38), 60 million euro, stock trader
Andruw Jones (33), 54 million euro, professional baseball player
Ruud van Nistelrooij (33), 53 million euro, professional football player
Quote regularly publishes a list of the 500 richest people of the Netherlands, including those who inherited their fortunes, and the difference with the self-made folks is stunning. The latter only lost half a million euro per capita in the past 12 months, whereas all the rich combined lost 17.8 billion, which comes down to 36 million euro per person.
In fact, only the losses of one man, Maasbert Schouten (banker, 38), who saw 200 million of his 235 million euro evaporate last year, stunted the growth of the self-made rich. Collectively they went from 2 billion euro to 1.95 billion euro.