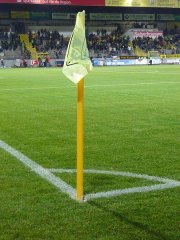 Back in September 2011, Turkish football club Fenerbahçe made an international, historical statement against supporter violence by only allowing women and children into the stadium for a match, for free I might add.
Upcoming Dutch cup competition AZ (Alkmaar) against Ajax (Amsterdam) has to be replayed due to a violent incident in December 2011 involving a supporter. With Ajax leading 1-0, an Ajax supporter ran onto the field and attacked the AZ goalkeeper. Yes, his team was winning. Problem is, the goalkeeper defended himself by hitting the supporter, which sounds like a normal response to being attacked. The goalkeeper was then dealt a red card and the whole thing led to the AZ players leaving the field in protest and the game being abandoned.
True, players are not supposed to hit supporters, but then supporters are not supposed to attack players on the field. This wonderful display of what pathetic looks like is still a good conversation starter at the local Dutch cafe.
According to Editor-in-chief Kristiaan Schimmel of Gay.nl, gay men should also be able to enjoy a day at the stadium. The obvious objection to this is that straight men will do their utmost to get into the game and will succeed. It just takes one fake gay guy to ruin the whole idea of punishing what is predominately if not exclusively male supporters' bad behaviour.
How's this for an idea: if supporters stopped acting like cocks this wouldn't be an issue in the first place.
(Link: www.rtvnh.nl, Photo by Wikimedia user Carolus Ludovicus, some rights reserved)