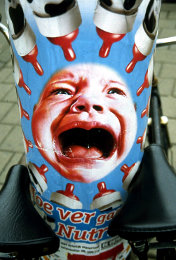 The manager of a drugstore in Etten-Leur, Noord-Brabant was caught selling a pallet of baby formula out the back of the shop before the product hit the shelves. However, this apparently happens often around the country, as managers receive their bonuses based on their turnover rather than their margins. If they are always able to sell their pallets of formula in one go, it's no surprise some of them will move product this way. Almost everyone in the Netherlands has noticed that baby formula can only be bought one or two tins at a time due to a constant shortage.
The media tends to blame the Chinese who buy up baby formula, but that's only half the picture. The shortage is not caused by individual Chinese buying up units or even a pallet out the back, but mainly by Dutch producers of formula who can sell it at three times the Dutch price on Chinese websites where only a select handful of foreign companies are allowed to do business. According to the Telegraaf in 2013, Chinese resellers can make millions selling Dutch baby formula to the Chinese whether it comes directly from Dutch companies or Chinese selling it themselves. I've read that ambitious traders who buy pallets get the product into China through Hong Kong, even a few tins at a time if need be.
Sure, the Chinese can buy domestic formula, but since the scandals of 2008, expecting parents would rather buy quality foreign products, and big European companies know this all too well.
(Link: nieuws.nl, Photo of a poster protesting Nutricia by Martijn van Exel, some rights reserved)