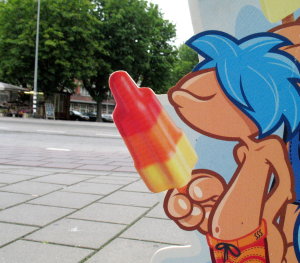 According to BN De Stem, food giant Unilever is pulling the plug on the longest running ice lolly in the Netherlands, the Raket ('Rocket').
BN De Stem suggests the Rocket is too Dutch for its own good. Unilever was only producing them for the Dutch market. The company, operating under the Ola brand in the Netherlands and Wall's and Algida elsewhere, wants to streamline its production of ice cream flavours by reducing them from 450 to 90. As one observer said: "How much more streamlined than a rocket can you get?"
RTL Z claims that the story is an April Fools' joke, citing "sources within Unilever". Unlike any other April Fools' joke I've seen, this one doesn't refer to April however. The original source talks about May instead. Elle smells a rat, because why would a brand ditch a product that sells so well? So I decided to find out for myself, picked up the phone and called Unilever: turns out, their press department is conveniently unavailable for comment during the four-day Easter weekend.
Everybody agrees that if this really is an April Fool's joke, it's one of the lamest ever.
If Unilever is really abandoning the Rocket, then you're in luck. Cheap knock-offs are still being made by competing brands as Z24 helpfully pointed out two years ago .
The news that Unilever is going to discontinue its traditional Dutch treat follows recent news that two major 'bitterball' manufacturers, Mora and Van Geloven, are now in foreign hands, and news from 2014 that aniseed cubes were discontinued by De Ruijter because the machine that made them could no longer be kept in repair.
See also: