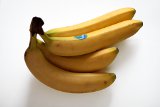 Although gorilla Jacko had a bad year in 2011 for the first time, this year Jacko was back on track, outperforming the AEX (Amsterdam Exchange index), as he has done 12 years of out 13.
The stocks picked by Jacko using bananas rose 12% in value over the year, while the AEX rose by 10%. "Jacko's profits are largely due to Heineken, Aegon and Aalberts, which rose sharply in value. Unfortunately he sold Ordina and Aperam with a large loss."
So if a gorilla can do it, maybe we can too.
(Link: www.dutchnews.nl)