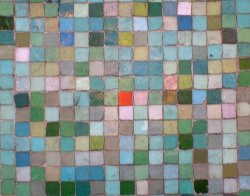 The recently opened exhibition Niet Normaal ('Not Normal') Difference on Display features 80 works by major international artists who question normality, held in the famous Beurs van Berlage building downtown Amsterdam.
In an attempt to talk about something else than snow and trains, I failed with the latter. The NS (Dutch railways) has banned a poster picturing a nude sculpture by British artist Marc Quinn of a disabled athlete missing one upper arm and lower leg because they apparently feel that it is too confrontational and unfit for the public at large. What about all the horrible (by horrible, I mean just badly done) sexist, sexy, racist, boring, stupid and ugly posters? If those are normal, them I'm a proud freak in my own sane way.
So bravo 'normal people' of the Dutch railways, you've managed to tell the entire country that disabled people are not normal as well as being 'offensive' to look at even in picture form. Splendid marketing coup for the exhibition I guess.
(Link: nrc.nl, Photo of Mosaic by pink_fish13, some rights reserved)