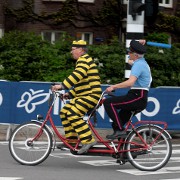 Last Friday a man in Nijmegen drew the attention of the local constabulary because he failed to reach the pedals of the bicycle he was riding on the Hazenkampseweg.
A quick check of the frame number by the police officers who had been driving in an unmarked car that the bike had been stolen on January 13 from the Dukenberg shopping centre. The 21-year-old man was apprehended on suspicion of theft and handling stolen goods.
The bicycle will be returned to its owner.
(Link: politie.nl)