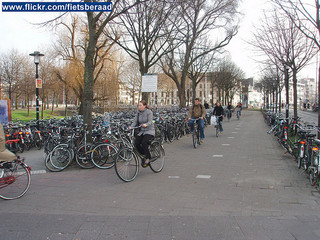 All that heavy duty construction work at Utrecht Central station, the country's biggest train station, will eventually house the world's biggest bike garage — all three floors of it. The garage will also feature a bike path and fit neatly under the train station, unlike the sea of bikes that can now be found around the station in the photo above.
Also home to Utrecht University, the country's biggest university, Utrecht is very visibly full of students, many of which bike everywhere.
Just a few days ago we told you about how many wrongly parked bikes had been removed in 2012, but this kind of mega project should help alleviate the problem. The bike garage will be able to accommodate 12,500 bikes, which is exactly five times as many bikes as Amsterdam's bike flat next to the train station that's already overflowing.
Designed by Ector Hoogstad architects, the mega garage will open partially in 2016, and be ready entirely in 2018.
(Link: www.bright.nl, Photo Photo of Bikes at Utrecht Central station by Fietsberaad, some rights reserved)