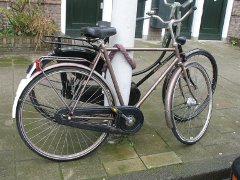 Not too far from 24oranges HQ, the city of Amsterdam is trying out a new bike rack that fits cargo bikes and bikes too wide to fit into normal bike racks, usually with crates in the front.
People with bigger bikes usually park them willy-nilly, taking up more space, which is a bit inconvenient. As well, instead of jamming your bike front wheel first where it may bend because the bikes are stacked too close to each other, the front fork of the bike rests on the rack, as the slots are wider, and hopefully morons won't lock their bike to yours catching your brake cable in the process.
For anyone living in Amsterdam, you can even e-mail your opinion about the rack to help the city decided whether it should install more.
(Link: parool.nl)