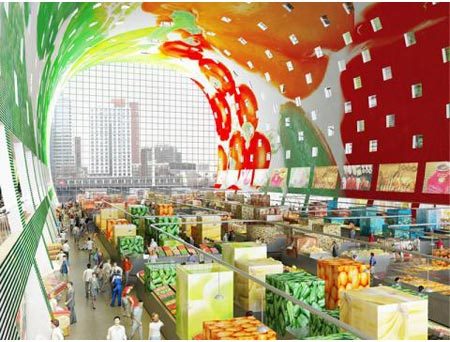 The Binnenrotte is an interesting area in Rotterdam, as it seems to have functioned as a slate for the city in recent times. It is where the river Rotte used to be, from which the city derives its name, until the river was filled in 1871 to make room for a railway. In 1940 Nazi bombers destroyed the entire area to force the country into submission at the start of (and as part of) the Blitzkrieg. Last year, it was city hall's turn to wield the wiper again, destroying buildings along the Binnenrotte to let top archictects at MVRDV build this giant market hall due to be finished in 2014.
One interesting aspect of this design is that the inside will be lined with LED lights that can be programmed to display any image imaginable. The front and backside of the arch will be made of glass.
This is the area where I live. It is very colorful, a bit shabby, but a fantastic atmosphere around the Blaak market and the church. This atmosphere, made of different populations, cultures and social levels, is likely to disappear too. I wanted to keep memories of this…
… writes Alphast ("a Frenchie in (South) Holland"), who created a Flickr set showing what the area looked like until last year.
Via Archdaily (also source of the image), link tip Laurent Chambon.