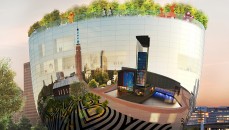 To be designed by Rotterdam architecture firm MVRDV, the Museum Boijmans van Beuningen in Rotterdam wants to build a € 50m private art depot to display its artworks along with the ones of private collections. This would mean an additional 145,000 artworks could be seen, which otherwise would stay hidden from view.
The museum sees this as a great way to fund itself. "We are stimulating the market and taking a piece of the market back to the museum," director Sjarel Ex explained at a presentation at the Tefaf art fair in Maastricht on 13 March.
The 'collection building' does look like a bit like a salad bowl and would be built next to the existing museum. Some 10% of the space would be rented out to private collectors. The museum also plans to facilitate loans, produce condition reports and provide other collection management services.
Rotterdam's city council will vote on the proposal on 20 May and it it is approved, the depot would open in 2018.
(Link: www.theartnewspaper.com, Photo: collectiegebouw.boijmans.nl)