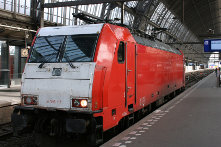 If you've followed the drama with Dutch Rail's showpiece train Fyra, you'll remember that they had to replace it because it kept embarrassing them by dropping parts on the rails and by not running as often as one would expect from a regular train service.
The replacement came in the form of Bombardier's Traxx locomotives. According to Metro, the new train is not without its own problems. Last Friday the paper wrote that a Traxx train breaks down about 4.8 times a day on average. As a comparison, the Thalys, a high speed train run by a consortium of European countries that uses the same tracks, only breaks down once a day.
The malfunctions of the Traxx system are partially caused by a failure to connect the train to its overhead lines. A spokesperson for Dutch Rail told Metro that Thalys trains are more capable of restoring a connection to the overhead lines than Traxx locomotives.
A plan by transport company Arriva to operate an Amsterdam – Brussels connection on the high speed track was flat-out rejected by junior transport minister Wilma Mansveld last October. She sees no reason to take away the lucrative connection from state-owned Dutch Rail.
(Photo of a Traxx locomotive at Amsterdam Central Station by Roel Hemkes, some rights reserved)
Tags: Bombardier, Dutch Rail, trains