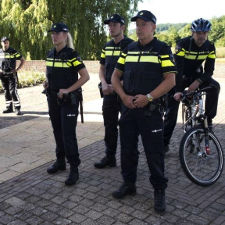 At first it seemed a joke to Bravour, a shanty choir from Woerden. When the Dutch police introduced a new uniform in 2014, it turned out to be the spitting image of the choir's uniform, dark blue with broad yellow bands across the chest.
"We've suddenly gained tens of thousands of new members", the choir's chair person Ad de Goey quipped in Algemeen Dagblad that year. "The local police also thinks it's funny. Well, they're all welcome to join as far as I am concerned."
But in November that year the joke turned sour when the police let on that somebody was going to have to change their uniforms—and the somebody wasn't going to be the police. Although the article doesn't mention it, the police actually had the law on their side—impersonating a police officer, even if it is only by dressing like one, carries a maximum prison sentence of three months.
The shanty choir were all good sports about it. Not only did they come up with a new uniform, but on 26 February 2016 they invited the police choir from Gelderland to the Cross Church in Woerden for a joint performance. As Joe Cocker's You Can Leave Your Hat On was played over the tannoy, Bravour members performed a striptease in which they tore off their old uniforms, revealing the new uniforms underneath. From now on the shanty choir will perform in dark blue with a broad, light blue wave.
See also: The Netherlands has finally become a police state
(Illustration: these people may dress like a bunch of entertainers, but they are actually Dutch police officers; source: politie.nl)