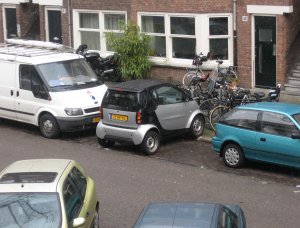 While these uselessly small parking spaces popped up in The Hague a few years back, an interesting show of urban planning gone mad in Woerden, Utrecht actually has an explanation. You can stop reading to try and guess while looking at the image in the second link or read on.
First, the city of Woerden hooked up the hastily fitted lamp pole for now, but will replace it soon, after receiving new ones. They claim it's easy to fix, but yes, it looks totally stupid for now.
Then, it needs to deal with the run-up that leads into the bushes because that looks pretty moronic as well. The owner of the house had asked for a run-up, but has not yet dealt with removing the bush.
And it's all about coordination, says the city. At the end of June things should look a lot less stupid.
(Link: www.rtvutrecht.nl)
Tags: Urban planning, Woerden