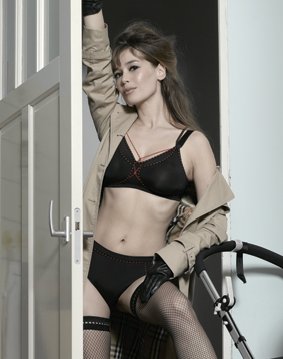 Lingerie designer Marlies Dekkers won a Contours International Lingerie Award (CILA) in the category Maternity last Monday with her "Maternity Collection," three lingerie sets for mothers with babies. The nursing bras have broad shoulder straps and cups that can be opened, and a "milk marker" made from black satin ribbon to indicate which breast was last used to feed. The jury of this third installment of the CILAs particularly liked the Starlet Nursing Bra (see photo) for its combination of comfort and style.
The Oosterhout-born designer got the idea of a maternity line when several of her pregnant friends asked for a sexy yet comfortable nursing bra. Last year Dekkers also won a CILA, in the category Best Fashion Lingerie.
Photo: marliesdekkers.com. Via Knack.be (Dutch).
Tags: breast feeding, Lingerie, Noord-Brabant