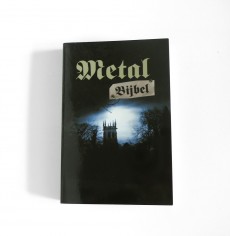 Erik de Kuijper from Breukelen has collected some 600 bibles of all kinds and has decided to start a museum. However, his idea of a starting a museum is just come on over and check them out, although you'll have to find out where he lives.
De Kuijper apparently has bibles that are very tiny, written in Braille and really old ones. He explained that his wife bought a stack of bibles from the charity shop one day and that's how he started his collection.
The photo above is my Metal Bible, handed out at the entrance of the Into The Grave metal festival in a few years' back.
(Link: rtvutrecht)