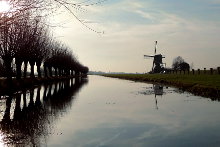 Police officers had to resort to requisitioning a tractor to catch three suspected bicycle thieves in a field last Thursday, the Breukelen police report.
Earlier that evening a citizen saw the three suspects loading bicycles into a van and alerted 112 (the European emergency phone number). A motorcycle cop spotted the van and signalled the driver to stop, but the van continued onto the A2 motorway in the direction of Amsterdam. During the chase, the van stopped on the shoulder and three men emerged, fleeing into a meadow.
Several officers ran after the suspects, and at that point one of the officers requisitioned a tractor with which he or she continued the chase. With the help of wardens of a nearby nature reserve who were passing in a boat, the officers managed to stop and arrest the suspects on top of a dike.
The suspects turned out to be from Haarlem and were aged 29, 37 and 43. The van had a stolen license plate.
You read it here first, folks: three men from Harlem arrested in Brooklyn using a tractor.
(Photo of a dike in Kockengen, near where we suspect the three were apprehended, by E. Dronkert, some rights reserved)
Tags: Breukelen, Brooklyn, crime, Haarlem, Harlem, Kockengen, nature preserves, police, tractors